I have a love/hate relationship with amigurami. I love the finished product, but making them can be incredibly tedious and painstaking. Over the years, I've compiled a number of tricks to make my life easier and my finished projects look more polished and professional.
TIP #1: USE THE MAGIC RING TO START YOUR ROUNDS
If you don't want holes in your critter's head, NEVER crochet into a chain. Use the magic ring instead. I use this method every time I crochet anything that's in the round.
WikiHow has great instructions with videos HERE.
TIP #2: MARK YOUR STITCHES VERY CAREFULLY
I have two things working against me when it comes to making amigurami. I'm easily distracted and I can't count, so I learned (the hard way) that I not only need to use a traditional stitch marker, but I also need to mark the beginning of each round. I do this with a contrasting piece of yarn. This also makes in easier to keep track of the number of rows you've crocheted.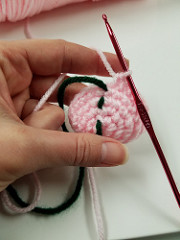 TIP #3: STREAMLINE YOUR COLOR CHANGES
I'm a perfectionist, and I hate sloppy color changes. Fortunately, there are some methods to make your color changes smooth and unobtrusive when you're crocheting in the round.
Here is my favorite tutorial: Oomanoot: The Perfect Color Change
TIP #4: WEIGHT THE BOTTOMS
I don't like it when my poor little critters fall down, so I've started to weight the bottoms of them, when necessary. To do this, I cut a piece of tulle or scrap fabric, fill it with Poly Pellets, and tie it off tightly with a piece of scrap yarn.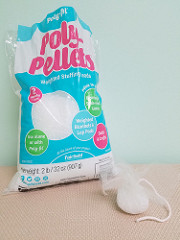 Just be careful not to spill the Poly Pellets all over the floor!
TIP #5: HAVE FUN AND BE CREATIVE!
Once you get the hang of making basic body parts, it's so easy to create your own patterns. Here are two of my own inventions!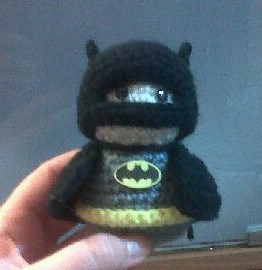 I based Batman and Einstein off of patterns and instructions in Creepy Cute Crochet by Christen Haden. It's one of my favorite pattern books.
I hope these tips are helpful. Let me know of any other ideas in the comments!