I've noticed that a lot of crocheters have been talking about finally being able to make things for themselves now that the holiday season has ended. I'm right there with them. After a craft show in November and trying to make gifts for the holidays, I decided to treat myself to something epic. I have been talking for a long time about making myself a Darth Vader blanket, and I've been intrigued by corner to corner crocheting, so I looked for a pattern and found absolutely nothing. I found this picture on Pinterest, a graph on a site for perler bead patterns, and this post from Ahookamigurumi with tons of amazing Star Wars graphs including the Darth Vader graph from Not All Who Wander are Lost, but nothing for a full sized Darth Vader blanket. Since I couldn't find exactly what I wanted, I decided to see if I could use the amazing graphs people have shared and my limited math skills to make a full sized blanket. Here are the resources I used:
Stitch Fiddle: I can't remember where I first read about Stitch Fiddle, but it's a site for creating graphs for projects. Now that I've used it once, I feel like I should play around with it more and write a full review because it has a lot of cool features. It even allows you to upload your own photographs to turn into graphs.
The most difficult part of this process was figuring out how many blocks my grid should be in Stitch Fiddle. I was able to find a couple pins about corner to corner afghan sizing, but my concern was that none of the posts took gauge or hook size into account. My advice is to crochet a few rows with your hook and yarn of choice and see how big your C2C squares turn out to be. Somehow mine ended up being perfect inch squares, which made my life very easy.
This post from The Crochet Crowd has a comprehensive list of afghan and blanket sizes.
This post from Lion Bran Yarn has been so valuable when I need to determine how much yarn I'll need for projects.
This blanket is the result of all my efforts, and it wasn't as difficult as I feared!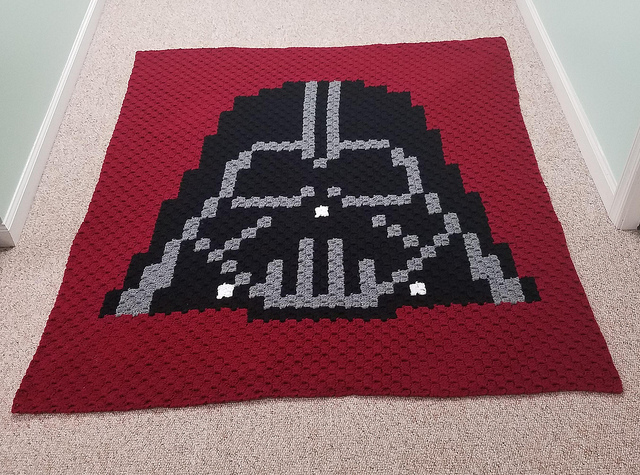 I'm pretty pleased with how it turned out, especially considering that there was math involved in its creation! It's exactly the size I wanted (it turned out to be 52″ x 59″) and I calculated the right amount of yarn.
I used the following tutorials to learn corner to corner crochet. Check them out because I've learned so much from Jess at Make & Do Crew and Mikey from The Crochet Crowd.
Materials:
Approximately 901g of yarn in red
Approximately 197g of yarn in grey
Approximately 481g of yarn in black
Size H 5.0mm hook
I used Caron One Pound in claret, black, and medium grey mix, but I had a lot of black and grey left over. I bought more yarn than I needed just to be safe, but my calculations ended up being correct.
As long as you can do simple math, you can use the tools in Stitch Fiddle to make graphs for afghans in any size you want! You get fifteen graphs with a free account, but you can upgrade to a pro account for more graphs and features. Right now I'm still using the free version, but I may decide to upgrade at some point.
Now I'm hooked (bad pun intended) on corner to corner crochet, and I'm coming up with ideas for more graphs! I'm excited to create some completely original designs to share!